CNP
AirPrex complete sludge optimization and Phosphorus Recovery System.
VISIT WEBSITE
cnp Technology Water and Biosolids Corporation designs and supplies systems for nutrient recovery and sludge optimization. Led by a team of wastewater industry veterans and supported globally by engineers with decades of experience in biosolids treatment, cnp continues to pioneer innovative wastewater system solutions.
Struvite Mineral Buildup Causes Reduced Wastewater Treatment Plant Capacity
In wastewater treatment plants with biological phosphate elimination, high phosphate concentrations occur in the digester's anaerobic environment.
As a result, struvite (or MAP: magnesium ammonium phosphate) builds up inside the pipes, pumps and process equipment, causing problems including:
Reduced plant capacity due to decreased flow through
the digester's pipes
Reduced dewatering efficiency due to increased water
bounding effects in the sludge by high phosphate levels
Increased phosphate loads in the return liquor, which
leads to a less efficient phosphate-elimination process
and causes crystallization problems in pipes and pumps
How MagPrex™ Optimizes the Sludge Treatment Process Like No Other System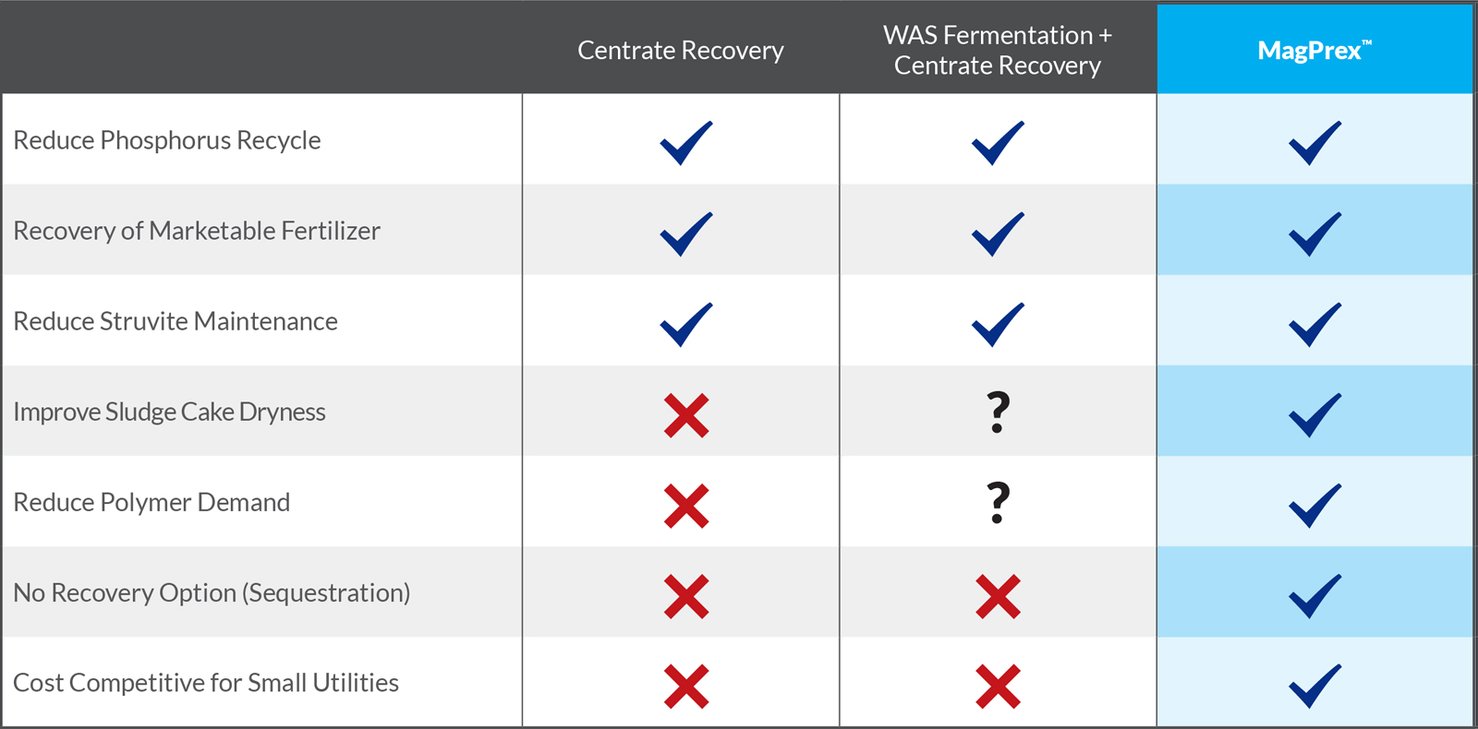 Until now, the main methods of struvite removal have been:
Costly, recurring chemical treatments
Phosphorus removal after dewatering
Unlike these other systems, MagPrex™ is a complete sludge optimization and phosphorus recovery system that's installed between anaerobic digestion and dewatering. The boundary conditions for struvite precipitation are set by air stripping in the MagPrex™ reactor and the addition of a magnesium chemical product. This combination of biological phosphate elimination and the MagPrex™ system achieves unrivaled effectiveness in terms of wastewater dewatering efficiency and cost savings.
Benefits
MagPrex™ Removes Struvite while Significantly Improving Efficiency
The MagPrex™ process has been designed to produce maximum return on investment and make a significant impact on your treatment plant's cost of operations. The elimination of struvite through this unique process leads to a 90 to 95 percent phosphate reduction in the returned liquor (up to 15 percent related to the incoming P-load).
---