JDV EQUIPMENT CORP.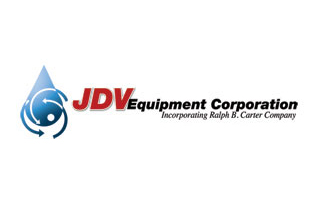 Anaerobic Digester Mixing, Membrane Gasholders, Sludge Heaters, Spiral Press, Heat Exchanges, Grit Classifier, Walking Beam Flocculator, Shaftless Conveyors.
About Us
JDV Equipment Corporation is a leading manufacturer and provider of safe, environmentally friendly processing equipment and services for water treatment, wastewater treatment, industrial and agricultural applications. JDV has over 50 years experience and over ten thousand successful process equipment installations. JDV's product portfolio helps our customers solve problems and meet the challenges they face every day in providing a safe and sustainable environment through water and wastewater treatment.
JDV's global headquarters and primary manufacturing operations are located in Northern New Jersey. JDV has process equipment installations in all 50 United States, Canada, South America, the Caribbean, Europe, the Middle-East and Asia-Pacific. With a focus on providing exceptional Service, JDV's seasoned professional team can assist you in all phases of a project, whether your project is complex or a simple spare part order.
Our core business has been solids handling equipment and services, helping customers reduce overall operational costs with a lower total cost of ownership. In 1995, JDV acquired the Ralph B. Carter Corporation, which began manufacturing and installing process equipment in the 1940's. JDV incorporated Carter's Anaerobic and Water Treatment product Lines into the JDV product portfolio.
JDV is diligently working to continually improve product innovation, global delivery and supply of process equipment and services. JDV is well positioned to serve our customers with a broad range of processing equipment and services for Municipal, Industrial and Agricultural applications.
Biosolids Handling
 JDV designs and manufactures a range of material handling products that help treatment plants and industry efficiently handle waste and by-products. For over 50 years and with a commitment to service, JDV has successful process equipment installations in all 50 states, the Caribbean, South America, Europe, the Middle East and Asia-Pacific.


Anaerobic DigestionIn 1995, JDV acquired the Ralph B. Carter Corporation and incorporated their Anaerobic Digestion product lines into JDV's product portfolio. With thousands of successful global product installations for over 50 years, JDV is well positioned to provide the experience and right products for your Anaerobic Digestion application.
Water Treatment
Water is essential to life, industry and agriculture. The US EPA states that there are roughly 155,000 public water systems in the United States responsible for supplying safe, dependable and quality water for public consumption and use to roughly 90% of Americans.
According to the World Business Council for Sustainable Development (WBCSD), in 2002 more than half the world population received domestic water from a pipe connection.
JDV is committed to designing and manufacturing products and services to improve the water treatment process and assist in increasing the availability of safe water for all.
Walking Beam Flocculator


With over 50 years experience with successful installations, JDV-Carter Walking Beam Flocculators are a proven design to help protect public health and provide safe drinking water. Removal of small particles such as clay, organic material, metals and microorganisms from drinking water is essential to the final end product. Filtration alone cannot remove all small particles and can leave the water with a cloudy appearance and unsafe for consumption and use. With a reciprocating paddle design, the Walking Beam Flocculators improve the sedimentation or filterability of the small particles in the drinking water treatment process, typically for larger water systems serving greater than ten (10) thousand people.  The small particles attach themselves to an added coagulant (typically a polymer) as the paddles of the walking beam slowly move the particles in the water to be treated. The resultant product is a clump of material that is now able to settle in the water and is removed after settling to the bottom of a sedimentation basin.
JDV's walking Beam Flocculators are simple but advanced units with no submerged moving parts or maintenance. The equipment is adaptable to floc basins of any size or configuration and its performance is unaffected by the shape or depth of the flocculation basin.