ROTORK ACTUATION / K -TORK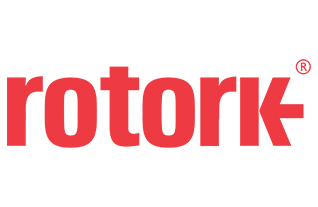 Heavy duty multi and 1/4 turn electric, hydraulic, and pneumatic actuators, control systems, and services for motorization and manual operation of gates and valves. Double Acting and Spring return rotary vane actuators.
Rotork Controls is Rotork's electric valve actuator division, offering an electrical solution to industrial valve control and actuation applications of virtually any size, description and complexity.
Rotork Controls' capabilities encompass actuators and control systems for new plants, plant extensions and upgrades, together with life of plant support. All activities are available from the world's largest dedicated sales and service network, providing a truly local service that is tailored for the specific needs of customers and industries in every part of the globe. Rotork's unrivalled range of market-leading products offers a robust and economic solution for every valve duty and operating environment.
Actuators, Gearboxes and Precision Control Instruments:
Rotork manufactures a full range of Flow Control products including Actuators, Gearboxes, Precision Control Instruments and Valve Accessories:
Network Products:
Rotork can also provide a range of open protocol control network products and our own proprietary Bus system – Rotork Pakscan:
Service and Support:
After sales support is provided by Rotork Site Services. Services include Actuator Overhaul, Retrofit and Preventative Maintenance:
Online Resources:
A comprehensive range of online resources support the Rotork product offering:
Find out more about Rotork's products by downloading the: