WEMCO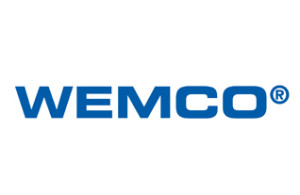 Screw Centrifugal Pumps, Chopper Pumps, Prerotation Pump Systems, Grit and Sludge Vortex Pumps, Self-priming Pumps, Hydrogritter Separators
VISIT WEBSITE
WEMCO is the market-leading US brand for vortex and screw impeller pumps in wastewater, solids and high grit applications, especially among municipal customers. A strong distribution network supports the brand's high recognition in this diverse market.
WEMCO® Torque-Flow®
Recessed Impeller Pumps
The WEMCO® Torque-Flow® is a recessed impeller pump designed by industrial experts to perform the toughest grit-handling duties.
The WEMCO® Torque-Flow® is the industry's toughest grit-handling vortex pump, it easily moves pipe size solids without clogging. Abrasion resistant construction – a robust solids handling pump.
Key features/benefits
The original recessed impeller pump
Fully recessed cup-type impeller
Replaceable hard iron wear plate
Two-piece case with replaceable suction piece
Wet-end parts available in 650+ Brinell hardness
SST wet end available on some models
Configurations: Horizontal/Vertical, Belt drive, Direct connect, Submersible, Cantilever
Applications
Waste water treatment
Grit and sludge
Chemicals
Abrasives
Fluids with large solids
Processes
Materials handling (Industrial)
Slurry transportation
Water and waste water
WEMCO® Hydrogritter®
Grit Removal System, Industrial & Chemical Pumps
The WEMCO® Hydrogritter® is an exceptional grit cyclone and classifier with an enduring operational life of over 25 years.
The WEMCO® Hydrogritter® components are designed as a system to optimise each piece of equipment to consistently produce long-term, high performance grit removal with unmatched reliability, and low operation and maintenance costs. The WEMCO® Hydrogritter® system removes and dewaters grit from primary sludge or influent.
Key features/benefits
Protects downstream equipment from grit damage
Downtime and grit removal expense minimised
Proven ability to remove fine (150+ mesh) grit
Production life of 25+ years
Cyclone clusters for higher flows
Applications
Processes
Classification and separation
Materials handling (Industrial)
Water and waste water
WEMCO® Prerotation
Prerotation Pumping System
The WEMCO® Prerotation is an automatic wet well cleaning and flow matching system.
The WEMCO® Prerotation System is designed to use the WEMCO® pump and Prerotation basin together to remove floating and settled solids from the wet well during every pumping cycle, without supervision, maintenance, or complex controls.
Key features/benefits
Self-cleaning wet well
Flow matching
Eliminates vacuum truck clean-out
Reduces odour, gas, and corrosion
Floatable and settled solids removal
Simple installation
Dry/wet pit immersible
Precast basins
Extended shafting
Applications
Removal of floating/sunken solids
Mining/carbon transfer
Oily water
Food and beverage
Sludge/waste water
Unscreened sewage
Processes
Food and beverage processing
Materials handling (Industrial)
Water and waste water
WEMCO® Screw Centrifugal Pump
Screw Centrifugal Pumps, Submersible Pumps
The WEMCO® Screw Centrifugal pump is equipped with a classic single vane screw centrifugal impeller.
Weir Specialty Pumps applies advanced pump design technology to increase product performance, reduce cost and improve lead time. The long-established screw centrifugal design provides clog-resistant pumping for trouble free movement of solids, and fibrous and stringy materials. The steep head-capacity curve produced by the impeller provides additional head to help push through any partial blockages.
Key features/benefits
High efficiency
Low NPSH requirements
Steep head/capacity curve
Flushless tandem mechanical seals
Adjustable liners
Large solids passage
Solids Passage: 2.5 – 4.75 in
High Chrome Iron impeller & liner
ASTM A532 Class III Type A
Applications
Sludges
Raw & unscreened sewage
Paper stock & wood chips
Wet well cleanup
Crystalline compounds
Bacterial Floc
Easily damaged fruits & vegetables
Coal
Configurations
Horizontal
Vertical
Submersible
Prerotation
Processes
Materials handling (Industrial)
Water and waste water